Accessories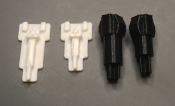 NEW, 3D printed reproductions of original injection molded keystems
$15.00
Add to Cart


Marketplace
This is a marketplace in which I and a handful of trusted suppliers sell quality, used merchandise. In every item description you will find the supplier name and contact e-mail of the supplier involved. When you pay for an item via PayPal, you are sending money to this particular supplier, and you should coorespond via e-mail regarding the order, and regarding any questions you may have.
If you run into problems, or the supplier fails to respond, never hesitate to contact me (John Bumstead) at john@rdklinc.com.
Payment
PayPal is the only payment method currently accepted. Payment in full is required. If you have concerns about payment or would like to make alternate arrangements, please e-mail the seller.
Shipping
Ground shipping is included in the purchase price of domestic orders. All items will ship within 1-2 business days of cleared payment. We do not generally make expedited or international shipments (e-mail the seller for details BEFORE purchase). To protect your item against loss, shipments may be designated "signature required".
Warranty
All items include a 30-day warranty. The buyer is responsible for all return shipping charges. RETURNS MUST BE TIGHTLY PACKED IN ORIGINAL DOUBLE-BOXED PACKAGING, AND SHIPPED VIA A TRACKABLE METHOD. The buyer is responsible for the item arriving in original condition, and damaged or lost items will result in no refund being given. Any work performed on an item, or work performed by 3rd party repair entities, will void the warranty -- if there is a problem with the item, it's the seller's reponsibility to take care of it, so let the seller know!
Miscellaneous
Every effort is made to describe items fully and honestly, plainly disclose all known flaws, and to avoid deceptive selling techniques. However, used items likely show reasonable signs of wear not explicitly described. A used item may have a shorter life expectancy, be less durable, or be more prone to malfunction than a new item. Products do not come in original packaging, or with original documentation. Please do proper research (perhaps by posting questions in the "Answers" section) in order to make sure the item is capable of performing a desired function. If you have questions, please ask!