Marketplace •
Early Commodore Amiga 1000 and Monitor With Original Boxes and Materials! Excellent Shape!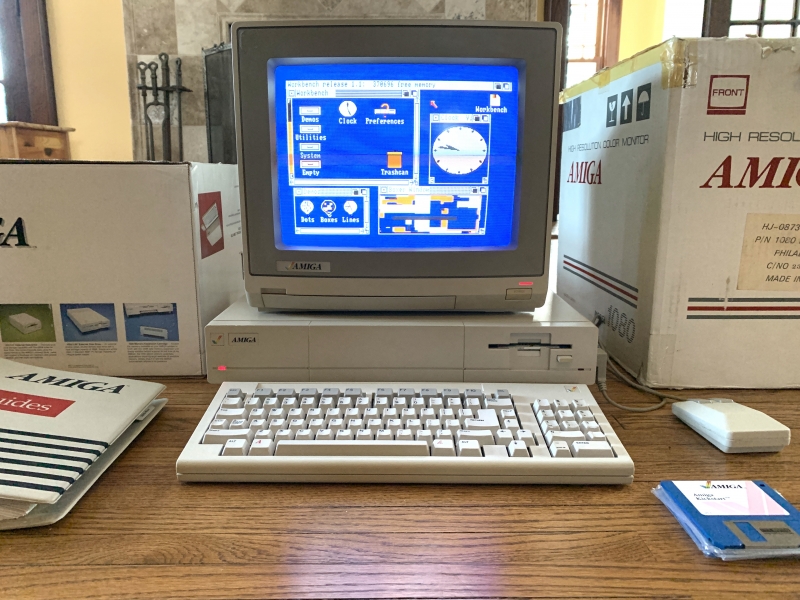 Shipping
Shipping within the domestic US is included

$2599.00

Product out of stock.

This listing is for a very special computer that deserves to be in a museum -- a very early Amiga 1000 and 1080 monitor complete with original boxes and materials! I have dealt with many Amigas, but I have never even seen an Amiga 1000 box, let along one in this kind of shape. Better yet, it comes with original items, right down to the "read this first" document, and the warranty registration.

The computer is in remarkable condition considering it is 35 years old, and it is in better shape than any Amiga in my collection -- by far. The monitor has some light yellowing, but again, it looks very good overall. If the computer has yellowing, I can't tell, and it is brighter than any Amiga 1000 have seen in decades. It has a few nicks on the top-left edge of the case, as shown, and some scrape marks on top (probably from a monitor), but other than that it is pristine. The mouse appears to be mostly unused. The keyboard is stunning. The front 256K RAM expander is shiny like a mirror (these are usually dirty and corroded).

I do not know that in 2020 it is possible to find a nicer and more complete example of an Amiga 1000 than this one. I do not believe this machine has received much use. It came from the original owner. I have tested it as thoroughly as I am able, and it works great -- the drive sounds healthy, and it the computer boots up to Workbench 1.1. I have left it on for a few long stretches in order to make sure it is stable.

This computer includes:
Amiga 1000 (512K total RAM)
Mouse
Keyboard & cable
Installed 256K RAM expander
Spiral-bound manual
Box and original foam
Power & video cables
Original documentation and flyers
Original set of 4 disks, including Kickstart 1.1 and Workbench 1.1
Amiga 1080 monitor
Amiga 1080 monitor box, materials, and manual
I will warranty this computer against defects for the standard 30-day eBay warranty period. Due to its age, I cannot offer any guarantees or warranties beyond 30-days.
The computer and monitor will be packed inside original boxes, and double-boxed so that the original boxes will not be damaged in shipping.
Please let me know if you have any questions! Please note -- the banding on the screen is a product of photographing an old monitor, and is NOT visible on the actual monitor.
Please watch my YouTube unboxing video to get a much better view of this amazing machine!