Marketplace •
MacBook 13" 2008 2GHZ C2D 4GB 250GB MB466LL/A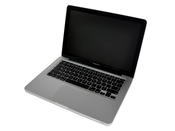 Condition
Grade C/D -- On the rougher side, but 100% functional!
Shipping
Free domestic shipping

$159.00
This is a 2008 Apple MacBook laptop with the following specs:
13" screen
2GHZ Core 2 Duo processor
4GB RAM
250GB hard drive
Working charger
Working battery (may show service alert)
Fresh install of Yosemite OS (no restore media included)
30-day warranty
This is a low-cost laptop that is good for basic functions like web browsing. Please keep in mind that although it looks like a more current model, it is the 2008 version and is limited to an older operating system. This laptop is in "grade C" condition and has several moderate to heavy signs of wear such as scratches and dents, but it is 100% functional.
Domestic US shipping is included. I do not ship internationally.